Tours around Oxford
In the UK, especially Oxfordshire, we are blessed with a foundation of historic architecture and globally recognised sights, that are a must-see whether you're a tourist or a local.
Delux Cars are offering the chance to view these historic monuments and buildings from the comfort of a slick, luxurious Mercedes-Benz. We offer a daily or weekly hire so that you and your friends and family can visit either the tranquil countryside of the cotswolds, or the vast historic architecture of Oxford.
A few examples of some historic Oxfordshire sites, where our Delux Cars chauffeurs can take you are:
Blenheim Palace
Located in the heart of the Cotswolds, Blenheim Palace is a huge country house in Woodstock, Oxfordshire. It belongs to the Duke of Marlborough and is now an English Heritage Site.
Besides its beautiful architecture, Woodstock is an old market town offering small, intimate restaurants and pubs where you can relax and dine out. Take the edge off and have a drink, by allowing your experienced chauffeur to drive you from spot to spot so you can learn about the culture of these rural English towns.
University of Oxford
Built nearly 800 years ago, the University of Oxford is still the cornerstone of Oxfordshire. Its graduated most of Britain's politicians and has been the home to many different filming locations. Delux Cars can guide you through the town allowing you to absorb the history it's soaked in.
Events
As well as sight seeing, our chauffeurs are well tuned to arriving at important special events on time and at the right place. With several years experience and knowledge in coordinating travel for such occasions, we can liaise with you about your schedule and tailor make a journey that suits you. You can then arrive safely and securely and enjoy a hassle free ride before the event.
A few examples of large events we take our clients to:
Royal Ascot
One of the UK's most famous racecourse tracks. Situated in rural Berkshire, it often attracts an array of celebrities and famous icons from around the world. It's one of the most popular sporting events in the country.
Delux Cars will tailor make your journey for you. Whether you want to arrive in style or discreetly, we can abide by any requirements you have. With several years experience and knowledge, we can talk you through your schedule and offer a solution any situation.
Wimbledon
The oldest, and possibly the most prestigious tennis tournament in the world. One of the only major tennis events still played on grass. It's history and events go back nearly 150 years.
We at Delux Cars recognise how reputable and distinguished this sporting event is. That's why we always recommend travelling with Oxford's Delux Cars. We strive to please you and know that customer satisfaction is a number one priority. Let us take the reigns for the day so you can sit comfortably and enjoy the smooth ride down to Wimbledon arriving refreshed and ready to absorb the day.
We can arrange travel for a whole host of different events. Get in touch with us to find out more. Our chauffeurs are flexible on the routes we take. You may desire to travel through the countryside to avoid the motorways to catch the latest F1 Grand Prix or Formula E event. Any event that requires specific timing or efficiency, Delux Cars can deliver.
Book here to get an instant quote or call us on 01865 776677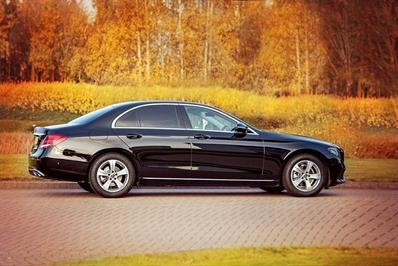 Kick start your journey in style
Book one of our Delux chauffeur-driven cars today.
Get an instant quote